Better commuting with ICT?
Published Feb 06, 2012
A new report by CESC and Ericsson ConsumerLab describes commuters' frustration with lame traffic and the behavior of other people. ICT solutions could help to make daily work travel more bearable.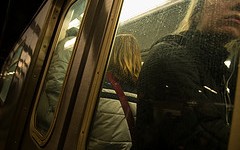 CESC partner Ericsson ConsumerLab has performed a qualitative study on people's experiences with commuting in Germany, India and USA. CESC's report analyses data from the study and discusses ICT solutions that could facilitate commuting from the commuters' perspective. The report also reflects on how ICT could enable commuting patterns that are preferable from an environmental perspective.
Börjesson Rivera, M., Henriksson, G., Åkerlund, M. (2012) Getting there and back again – Commuting and ICT in six cities across the globe . Report from the KTH Centre for Sustainable Communications, Stockholm.