Call for papers: Special issue "focus session" on ICT and the SDGs
Deadline June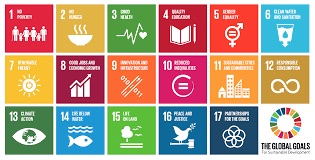 Published Mar 21, 2017
A workshop around Information and Communication Technology (ICT) and the United Nations Sustainable Development Goals (SDGs) was organised by us at NordiCHI in October 2016. You are now invited to submit full papers to a special issue ("focus session") on "ICT and the SDGs". Three out of four editors are connected to CESC.
Please disseminate as you see fit!
Call for papers:
Focus session on ICT and the UN Sustainable Development Goals in Interaction Design & Architecture(s)
Overview
Sustainability is the most important global challenge for the 21st century. While interest in sustainability is increasing within computing, it is not particularly difficult to claim that we currently do too little, and perhaps at times also the wrong things. Developing a sustainable society should include also Information and Communication Technologies (ICT) since ICT has become an integral part of all areas in society. But how does ICT contribute to a sustainable society, and, what are we aiming for?
In September 2015, the UN formally adopted a set of global goals, the Sustainable Development Goals (or SDGs, see further https://sustainabledevelopment.un.org/sdgs) consisting of 17 overarching goals, aiming at accomplishing sustainable development for people and the planet by 2030. The SDGs address ecological as well as social and economic sustainability.
In this IxD&A focus session, we want to engage everyone who is interested in working towards a sustainable future in terms and using the UN SDGs as a starting point. How can ICT be inspired by, and contribute to these goals? What should we do more of, and, are we doing the right things? In what areas should we form partnerships in order to reach the Sustainable Development Goals and with whom should we form these partnerships?
Topics may include but are not limited to:
ICT solutions that engages one or more SDGs

Work that critically discusses important topics not covered by the SDGs

The Interconnectedness of the SDGs in relation to ICT

Bridging global goals (SDGs) in terms of scaling and operationalizing them to make them possible/easier to address

The challenge of working with long-term goal in the context of ICT which emphasizes speed and results

Possible tensions and contradictions between different SDGs

The connection between socio-technical systems and the SDGs

Methods for monitoring progress in reaching the SDGs (for example using Big Data)
Submission procedure
All submissions (abstracts and later final manuscripts) must be original and may not be under review by another publication. All papers will be blindly peer-reviewed by at least two reviewers. Prospective authors are invited to submit a full paper (8-20 pages) including authors' information, abstract, tables, figures, references, etc.). The paper should be written according to the IxD&A authors' guidelines. For more information see the full call at: http://ixdea.uniroma2.it/inevent/events/idea2010/index.php?s=102&link=call34fs
Important dates
• Deadline: June 30, 2017
• Notification to the authors: September 30, 2017
• Camera ready paper: October 31, 2017
• Publication of the special issue: end of November, 2017
Guest editors
For advice or queries, please contact the guest editors and use the subject line "IxD&A focus session: ICT and the SDGs".
• Daniel Pargman (School of Computer Science and Communication, KTH Royal Institute of Technology, Sweden), pargman@kth.se
• Neha Kumar (Sam Nunn School of International Affairs and the School of Interactive Computing, Georgia Institute of Technology, USA), neha.kumar@cc.gatech.edu
• Mikael Anneroth (Ericsson Research, Sweden), mikael.anneroth@ericsson.com
• Elina Eriksson (School of Computer Science and Communication, KTH Royal Institute of Technology, Sweden), elina@kth.se