CESC research behind Climate-friendly paperbacks
Published Mar 22, 2011
Two of Sweden's major paperback publishers – Bonnier pocket and Månpocket – have launched the concept "Climate-friendly paperbacks" (Klimatsmart pocket). CESC was assigned to calculate the potential climate impact of the publishers' paperbacks throughout the whole production chain.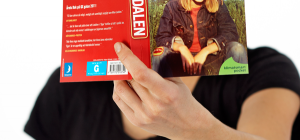 The books in the series "Climate-friendly paperbacks" are printed on FSC-certified paper and produced in Sweden in order to avoid long-distance transport . Environmental considerations are made concerning format, material, processes and suppliers. The publishers buy carbon offsets for the CO2 emissions that cannot be avoided.
CESC's role was to calculate the carbon footprint of the book production from cradle to gate (in this case the "bookshop"). The average book defined for the study was a paperback with 320 pages weighing 170 grams. According to CESC's calculations this book produced an equivalent of 0.12 kg CO2eq per book, or 0.73 kg CO2eq per kilogram book. This can roughly be compared with a previous study of a hardcover book which arrived at 1.2 kg CO2eq per book.
The results of CESC's study are presented in the report Climate Impact from the concept Climate-friendly paperbacks (written in Swedish) by Maria Enroth, Clara Borggren and Åsa Moberg.