Digital disruption - a good new thing for your old neighbourhood
Publication online!
Published Feb 19, 2016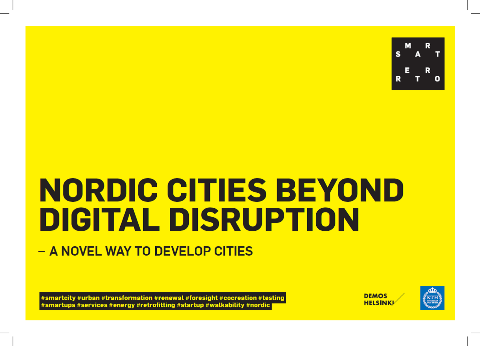 The emergence of the digital economy and the need to drastically cut greenhouse gas emissions are changing the way we live and work, faster than ever before. These megatrends have given rise to numerous smart city initiatives that aim to lead cities into carbon neutral future with smart use of digital technology.
But let us not forget to work with what we already have. The old cities need a new version of a smart city: one that is old but offers functionalities and amenities of the digital era.
- In this project we want to connect digital solutions with the creation of a sustainable city – connect sustainable tech and sharing solutions with construction companies, real estate and politicians. I hope the publication will be read by city planners, land lords and entrepreneurs, says Karin Saler, architect and one of the researchers in the Nordic Cities Beyond Digital Disruption project.
Nordic cities as innovation platforms for digital services
Smart Retro is a Nordic approach to smart city developed by the Nordic think tank Demos Helsinki, CESC at KTH Royal Institute of Technology and their 12 partners of both public and private organizations. It concentrates on integrating a new wave of smart urban services in the existing built environment and subsequently turning retro into smart.
In Smart Retro project we created a model which leveraged two Nordic neighbourhoods, Bagarmossen in Stockholm Sweden and City centre of Lahti in Finland, as innovation platforms. The process accelerated development of 14 urban smart services in real neighbourhoods in Finland and Sweden.
This development model is now being presented in the Nordic Cities Beyond Digital Disruption report. The model can be applied in different urban environments by different actors.
To find out more, download the publication here:
www.demoshelsinki.fi/en/julkaisut/nordic-cities-beyond-digital-disruption/
Nordic Cities Beyond Digital Disruption is written by
CESC/KTH Royal Institute of Technology and the Nordic think tank Demos Helsinki.
Read more about Smart Retro project:
smartretro.demoshelsinki.fi/
I think this is the key way to go...rather than thinking of Songdo as the model.
– Saskia Sassen, Professor at Columbia University & author of the Global City.
Contact:
Outi Kuittinen
Program Director
outi.kuittinen@demoshelsinki.fi
+358 50 326 5582
Karin Saler
Researcher, Nordic Cities Beyond Digital Distruption
+46739065244
saler@kth.se
Mattias Höjer
Professor in Environmental strategies and future studies
CESCs project leader in Nordic Cities Beyond Digital Disruption 
+46 8 790 6451
hojer@kth.se