Environmental impacts of print and online media
Published Jan 23, 2012
In collaboration with Alma Media, one of Finland's major media companies, CESC and VTT Finland analysed the environmental performance of three Alma Media print products and their respective online services. The life cycle assessment included many different aspects such as the environmental impacts of editorial work.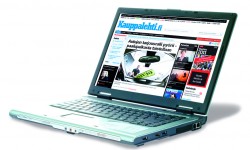 The study shows that Alma Media online newspapers have a lower total environmental impact than the printed. However, when considering the time people actually spend reading the printed newspaper or the electronic version, the printed version is in favour.
Further results and details of the study will be presented at the Alma Media event "Towards sustainable media" at Finlandia Hall on 25 January 2012 (9:00-11:30 ). Åsa Moberg from CESC will attend the panel discussion at the seminar.
Read more
Alma Media's press release
Environmental performance of Alma Media products (Project page)