Ph.D. interview with Yevgeniya Arushanyan
Published Sep 26, 2016
A few weeks ago, Yevgeniya Arushanyan succesfully presented and defended her dissertation "Environmental impacts of ICT: present and future". We asked her a few questions about it.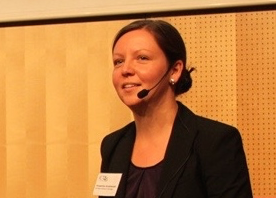 What is your dissertation mainly about?
The thesis explores Life cycle environmental impacts of current individual ICT solutions, and environmental risks and opportunities related to ICT in future scenarios. The challenges of assessment using Life cycle assessment (LCA) are discussed, and a new methodological framework for qualitative assessment of future scenarios is presented. The ambition of the thesis was to facilitate the discussions in ICT community and among decision-makers, and to contribute to the development of assessment methods.
What made you interested in this topic? 
ICT became such an integral and essential part of our lives, that being interested in sustainability issues, it felt that ICT is as important to consider at as e.g. energy or food production.
Which results do you find are the most important? 
I think the most important result of this work is the understanding of the complexity of the issue – that it is not so easy to say if ICT is "good" or "bad" for the environment, but that it depends on a number of other factors. It is important to consider a number of key issues when integrating ICT in planning for sustainable development.
Was there anything that surprised you in this work? 
Part of the work was trying to integrate environmental assessment and futures studies approaches. It surprised me how challenging, but at the same time enlightening it turned out to be.
Who do you think will benefit from your results? 
I hope this could be useful for both practitioners in ICT community, for policy- and decision-makers, and for researchers.  
Do you have any specific plans for the near or far future?
One of the plans for the nearest future is looking further into assessments of future scenarios and trying to develop a toolbox for scenario assessments (within ).