Save the date: Green Hackathon for Smart Sustainable Cities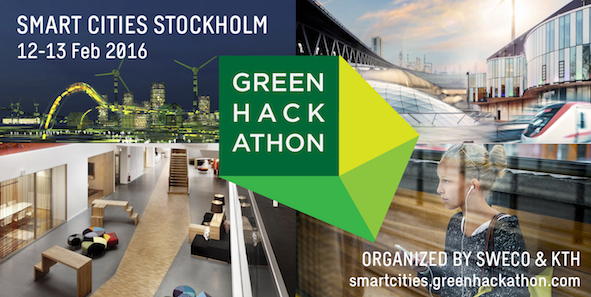 Interested in sustainable smart cities and ICT solutions?
Most welcome to our 24 hour green hackathon on February 12-13 aiming to find green and sustainable solutions for urban cities.
Our goal is to team up hackers with architects, environmental experts, statisticians, designers, story tellers, interaction designers and other interested in finding green ICT-solutions for the future city. Everyone is welcome!
There is a maximum of 100 participants or 25 teams. Partner up your team (max 5 participants) and get ready for your application.
Find application here . The event is free of charge, open for all and arranged in collaboration by CESC and Sweco.
The hackathon will take place at the Sweco-office at Kungsholmen in Stockholm 12-13 of February.
On the 26:th of January an after work on CESC at KTH will take place in order for participants to meet, team up and get presentations of the challenges.
More info  here  and on the Sweco blog on sustainable cities here
Questions? E-mail tinnir@kth.se