The internationalization of a guide encouraging municipalities and enterprises to use digitalization for the environment.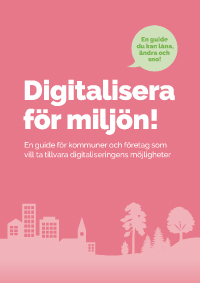 The information below concerns a workshop to be held at the ICT4S conference in Toronto in May 2018
The workshop focuses digitalisation for supporting environmental targets and supporting communication between people from academy, municipalities and industry.
In late 2017, CESC Centre for Sustainable Communications, produced an info-brochure in Swedish aimed at supporting municipalities and industry to focus on using Digitalisation for the environment.
The brochure is creative-commons-licensed. The workshop aims at creating a new version of the brochure, in English, with all participants being welcome as authors.
In advance of the workshop we will distribute the current content translated into English to everybody who has signed up for the workshop.
At the workshop we will work with participants on how to update the content. The workshop will be structured into a number of different parts. The first will be a brainstorm on what is missing in the brochure. Depending on the results of the brainstorm, we will adapt the following parts. One idea is that we will e.g. focus on specific parts, e.g. finding better international cases, or improving the language to make it more relevant and inclusive for an international audience. It may also be that we try to develop different version, depending on target group, e.g. municipality-industry, North America-Europe-Asia…
We are looking for a blend of people from academia, local and regional governmental organizations and industry.
People interested in the workshop should sign up for attending it in the facebook-group where also more information might be posted in advance of the workshop:
The brochure can be downloaded (pdf or InDesign-version) at:
The
Half-day participatory session. There is a maximum of 12 participants. With more than 12 signed up, we will make a selection to create a group with mixed experiences.
Mattias Höjer (hojer@kth.se) and Tina Ringenson (krin@kth.se) KTH Royal Institute of Technology, Stockholm