SEB'12 Conference: 3-5 September 2012
Published Jan 02, 2012
As a member of the organising team, CESC welcomes to the Fourth International Conference on Sustainability in Energy and Buildings 3-5 September 2012 in Stockholm.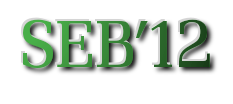 SEB'12 is a partnership between the  KTH Royal Institute of Technology (with representatives from the Centre for Sustainable Communications and  the School of Information and Communication Technology as co-organisers) and KES International. Following the success of earlier SEB conferences, SEB'12 will feature presentations from world-class researchers, engineers and industrialists, working in a broad range of renewable energy and sustainability topics for the built environment. Applicable areas include technology for renewable energy and sustainability in the built environment; also optimisation and modeling techniques, information and communication technology usage, behaviour and practice.
For more information on conference topics, registration and submission of abstracts please visit the SEB'12 website: seb.sustainedenergy.org .
See also the update on new Submission deadlines .