Summering av CESCs Almedalsvecka 2017
Årets Almedalsvecka hade drygt 4 000 registrerade evenemang i programmet och ämnena hållbarhet, digitalisering, klimat och miljö på 5-i-topp. Intensivt och mycket intressant för CESC alltså, som deltog genom eget seminarium, samarrangemang och som experter och åhörare. Tack till alla inblandade, här följer en sammanfattning av några höjdpunkter.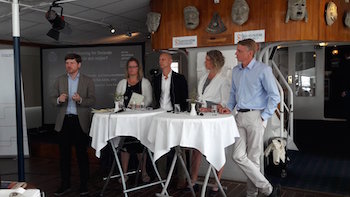 Ett särskilt tack till de som deltog i panelen vid vårt seminarium Digitalisering för delande - vad rör det miljön?  ; Per Bolund, Finansmarknads-, konsument- och bitr. finansminister (MP), Martin Ådahl, Chefsekonom, (C), Åsa Minoz, Expert på innovation och delnings-/kollaborativ ekonomi, ModigMinoz, Magnus Lindwall, Business Development & Sustainability Manager, Telia Company och Anna Kramers, Programchef, KTH Mistra SAMS - Sustainable Accessibility and Mobility Services.
Mattias Höjer, föreståndare för CESC, modererade och inledde med en diskussion om delningstjänster inom de mest miljöpåverkande områdena "födan, färderna och fastigheterna" och deras respektive potential/risk för positiv och negativ miljöpåverkan. Ett viktigt budskap från de båda politikerna i panelen var att delningsekonomi för ökad miljömässig hållbarhet är en fråga som både Miljöpartiet och Centerpartiet vill driva framöver. Hela seminariet filmades och en länk till filmen kommer här så snart den är klar. Teaterskeppet och Sustainable Innovation bistod med smidigt arrangemang.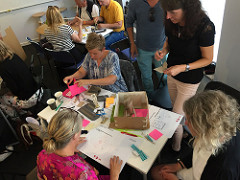 Inom initiativet #AlmeDela by shareSE var CESC samarrangör till två evenemang ihop med Usify, Theory into Practice, Mötesplats social innovation och Science Park Gotland. Först ut var ett expertseminarium på temat Delningsekonomi - hur tar vi vara på möjligheter och hanterar utmaningar?. Länken går till en artikel som beskriver bland annat Mattias Höjersoch Anders Gullbergs insatser som experter.
På onsdag eftermiddag var det dags för en FramtidsJam kring boende på temat Hur vill vi bo och leva 2030?. Deltagarna fick prototypa, klippa och klistra framtidens boende.Ta del av processen där bland andra Mattias Höjer, Anna Kramers och Anders Gullberg deltog, här !
Se också en summering av #Almedela by shareSE här .
KTHs Mistra SAMS ordnade ett seminarium med bland andra Daniel Helldén (MP), Gustav Hemming (C), Lena Smidfelt Rosqvist and Charlotte Wäreborn Schultz - som diskuterade nya tjänster för hållbar tillgänglighet och mobilitet i Stockholmsregionen. Läs mer här.
Vid det strategiska innovationsprogrammet Smart Sustainable Cities seminarium lanserades ett nytt namn: ViableCities.
Mistra SAMS Anna Kramers, Jonas Åkerman och Drive Swedens Jan Hellåker var med i Trivectors livepodd "Kommer ny teknik och tjänster att lösa transporternas hållbarhetsproblem?"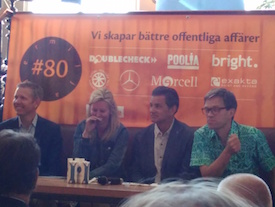 Social Venture Networks seminarium - Kan digitalisering stödja ett hållbart samhälle? leddes av Telenors Magdalena Aspegren. Mattias Höjer var en av paneldeltagarna i seminariet som filmades och livesändes.
IT & Telekomföretagen tog ett lyckat grepp i ett seminarium där digitaliseringsministern Peter Eriksson fick fråga ut samhället om hur vi använder & bör använda digitaliseringen inom olika områden.
Naturvårdsverket bjöd på intressanta seminarier och firade 50 år - grattis!
Vi uppskattade också Telias paviljong där bland annat en klurig framtidsvision av en hållbar stad byggts upp i Lego. Läs mer om deras satsning här .
Företaget ATEA väckte uppmärksamhet för sin "Game of Phones" byggd av cirka 300 kilo begagnade mobiltelefoner. Tanken bakom initiativet är att uppmuntra svenskar att återvinna sina gamla mobiltelefoner och vara en del i ett hållbart kretslopp.
Formas bjöd in till #Klimatprat med många spännande samtal intill ett smältande isblock.
Slutligen, PR-byrån Westanders utsåg Make Equals kampanj #ochjagprotesterade till "Hetast i Almedalen" för att de fick Almedalsbesökarna att agera för att bevara Almedalen som en plats där rädsla inte tystar människors röster.