Strategic plan for internationalisation of CESC (STRINT)
The Centre for Sustainable Communications (CESC) has gained a good reputation as a leading research group on ICT and media for sustainable development both nationally and internationally. However, in order to reach CESC goals related to international excellence, visibility and collaboration, more strategic efforts for international activities and collaboration are required.

Project title
CESC STRINT - Strategic plan for internationalisation of CESC
CESC STRINT – Strategisk plan för CESC:s internationalisering
Project description
By development and implementation of a strategic plan for internationalization CESC's international position can be improved. The aim of the plan is to position CESC (with its partners) on the international scene, to support the creation of interesting joint research projects and to facilitate increased use of CESC results worldwide. Working within a reasonably new field, there is also a need to create a common arena for this research.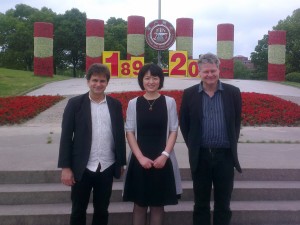 The project includes making an overview of actors and activities in the field of ICT for sustainability globally. A first step in this is to identify important aspects that will be used when defining key collaboration partners, areas and goals for the internationalisation of CESC. Furthermore, developing key performance indicators for benchmarking will also facilitate the development of CESC into an established international research environment. In order to facilitate the implementation of the plan the project also includes a number of study visits to relevant actors.
Project leaders: Mattias Höjer and Josefin Wangel
Partners:  Ericsson, TeliaSonera, Interactive Institute and KTH are involved in the project
Contact: Mattias Höjer or Josefin Wangel
Note: The project is funded by VINNOVA
Read more:  CESC intensifies international cooperation